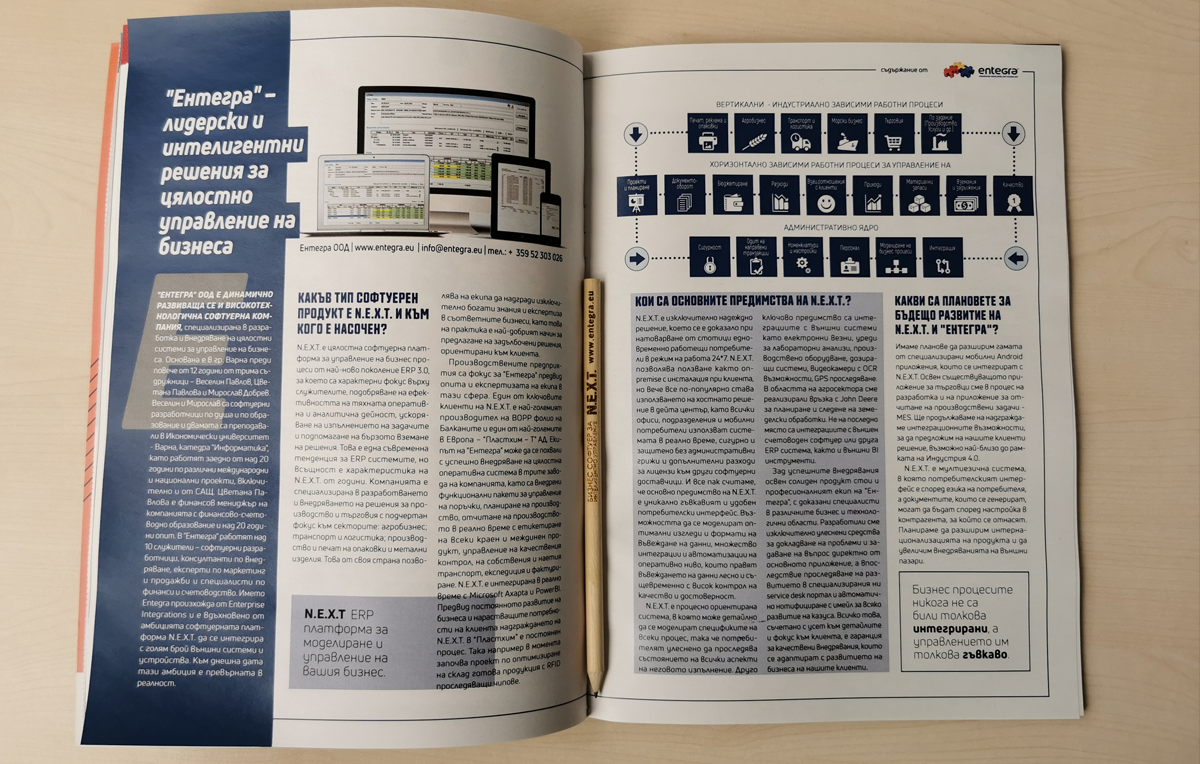 Entegra presented its solution covering the ERP 3.0 standard in one of the most respected business technology magazines.
Read the whole article in English bellow:
Entegra Ltd. is a dynamically developing and high-tech software company specialized in development and implementation of entire business management software systems. Established in Varna, Bulgaria more than 12 years ago by three partners – Veselin Pavlov, Tsvetana Pavlova and Miroslav Dobrev. Veselin and Miroslav are software developers at heart and by education and both have teached at the University of Economics in Varna – Department of Information Technologies. Working together for over 20 years on various international and national projects, including the United States. Tsvetana Pavlova is a financial manager of the company with financial and accounting education and over 20 years of experience. Entegra employs over 10 people – software developers, implementation consultants, marketing and sales experts and finance and accounting specialists. The name Entegra comes from Enterprise Integrations and is inspired by the ambition of the software platform N.E.X.T. to integrate with a large number of external systems and devices. To date, this ambition has become a reality.
What type of software product is N.E.X.T. and to whom is it directed?
N.E.X.T. is a complete software platform for business process management of the latest generation ERP 3.0, which is characterized by a focus on employees, improving the efficiency of their operational and analytical activities, accelerating the implementation of tasks and supporting rapid decision making. This is a modern trend for ERP systems, but is actually an existing feature of N.E.X.T. for many years. The company specializes in the development and implementation of solutions for production and trade with a strong focus on the sectors: Agribusiness; Transport and Logistics; Production and printing of packaging and metal products. This in turn allows the team to upgrade extremely rich knowledge and expertise in the respective businesses, and this is practically the best way to offer in-depth customer-oriented solutions.
The manufacturing companies are a focus for Entegra given the team's experience and expertise in this area. One of the key customers of N.E.X.T. is the largest producer of BOPP film in the Balkans and one of the largest in Europe – Plastchim – T AD. The team of Entegra can boast of successful implementation of a complete operating system in the three plants of the company as implemented functional packages for order management, production planning, real-time production reporting with labeling of each final and intermediate product, management of quality control of own and hired transport, forwarding and invoicing. N.E.X.T. is integrated in real time with Microsoft Axapta and PowerBI. Given the constant development of the business and the growing needs of the client, the upgrade of N.E.X.T. in Plastchim is an ongoing process. For example, a project to optimize the warehouse of finished products with RFID tracking chips is currently underway.
What are the main advantages of N.E.X.T.?
N.E.X.T. is an extremely reliable solution, which has been proven under a load of hundreds of simultaneously working users in 24 * 7 mode. N.E.X.T. allows use as an on-premise with installation at the client, but it is becoming increasingly popular to use as hosted solution in a data center as all offices, departments and mobile users use the system in real time, secure and secure without administrative worries and additional license costs to other software vendors. Still, we believe that a major advantage of N.E.X.T. is a uniquely flexible and user-friendly interface. The ability to model optimal views and formats of data entry, multiple integrations and automations at the operational level, which make data entry easy and at the same time with high quality control and reliability.
N.E.X.T. is a process-oriented system in which the specifics of each process can be modeled in detail, so that the user can easily track the status of all aspects of its implementation. Another key advantage is the integration with external systems such as electronic scales, instruments for laboratory analysis, production equipment, dosing systems, video cameras with OCR capabilities, GPS tracking. In the field of agriculture, we have established a connection with John Deere for planning and monitoring of agricultural cultivation. Last but not least are the integrations with external accounting software or other ERP system, as well as external BI tools.
Behind the successful implementations, in addition to the solid product, is the professional team of Entegra, with proven specialists in various business and technological fields. We have developed extremely easy tools for reporting problems and asking questions directly from the main application, and subsequently tracking developments in our specialized service desk portal and automatic notification by email for each development of the case. All this combined with a sense of detail and focus on the customer is a guarantee of quality implementations that adapt to the development of our customers' business.
What are the plans for the future development of N.E.X.T. and Entegra?
We have plans to expand the range of specialized mobile Android applications that integrate with N.E.X.T. In addition to the existing application for traders, we are in the process of developing an application for reporting production tasks – MES. We will continue to upgrade our integration capabilities to offer our customers a solution as close as possible to the Industry 4.0 framework.
N.E.X.T. is a multilingual system in which the user interface is according to the language of the user, and the documents that are generated can be according to a setting in the counterparty to which they refer. We plan to expand the internationalization of the product and to attract the introduction of foreign markets.
The original article you can see here:  https://www.cio.bg/softuer/2020/12/07/4148592_entegra_liderski_i_inteligentni_resheniia_za_cialostno/